Posted by

Punk POS ● Jul 2, 2020 2:07:02 PM
6 Productivity Software Programs to Keep You on Task
If you struggle to stay on task and manage your productivity, you're not alone. Countless people find it hard to keep track of everything, especially project management. Thankfully, there are numerous software programs and apps with that in mind. You can find everything from to-do list apps, email clients, and project management tools — wherever you struggle, there's a software program to meet that need.
6 Software Programs for Productivity:
Todoist is a task management software that keeps you on track to complete all tasks on any given day. You can download Todoist onto your PC and save the program onto your taskbar for easy access throughout your busy day. Todoist also comes with a smartphone app that you can sync with your PC when you make an account.
Todoist includes checklists for Today, Upcoming, and a seven-day spread. You can also create custom to-do list categories. Arguably the best feature is that you can integrate Todoist with smart assistants like Amazon Alexa and OK Google, to add verbal tasks to your lists.
Office 365 is a suite of software programs that most people are already familiar with. An Office 365 subscription gives you access to Word, Excel, PowerPoint, OneNote, OneDrive, Outlook, and Teams. You can use Word to write documents in the morning, PowerPoint to give presentations in the afternoon, and Outlook to send emails in the evening.
Teams is one of the newest programs Microsoft offers, and it allows groups of people to connect in one space via text or video conference. Teams is highly useful, especially during the COVID-19 pandemic, offering an easy way for coworkers to collaborate on projects.
With an Office 365 subscription, you also get 1TB of cloud storage for files, pictures, and videos on OneDrive.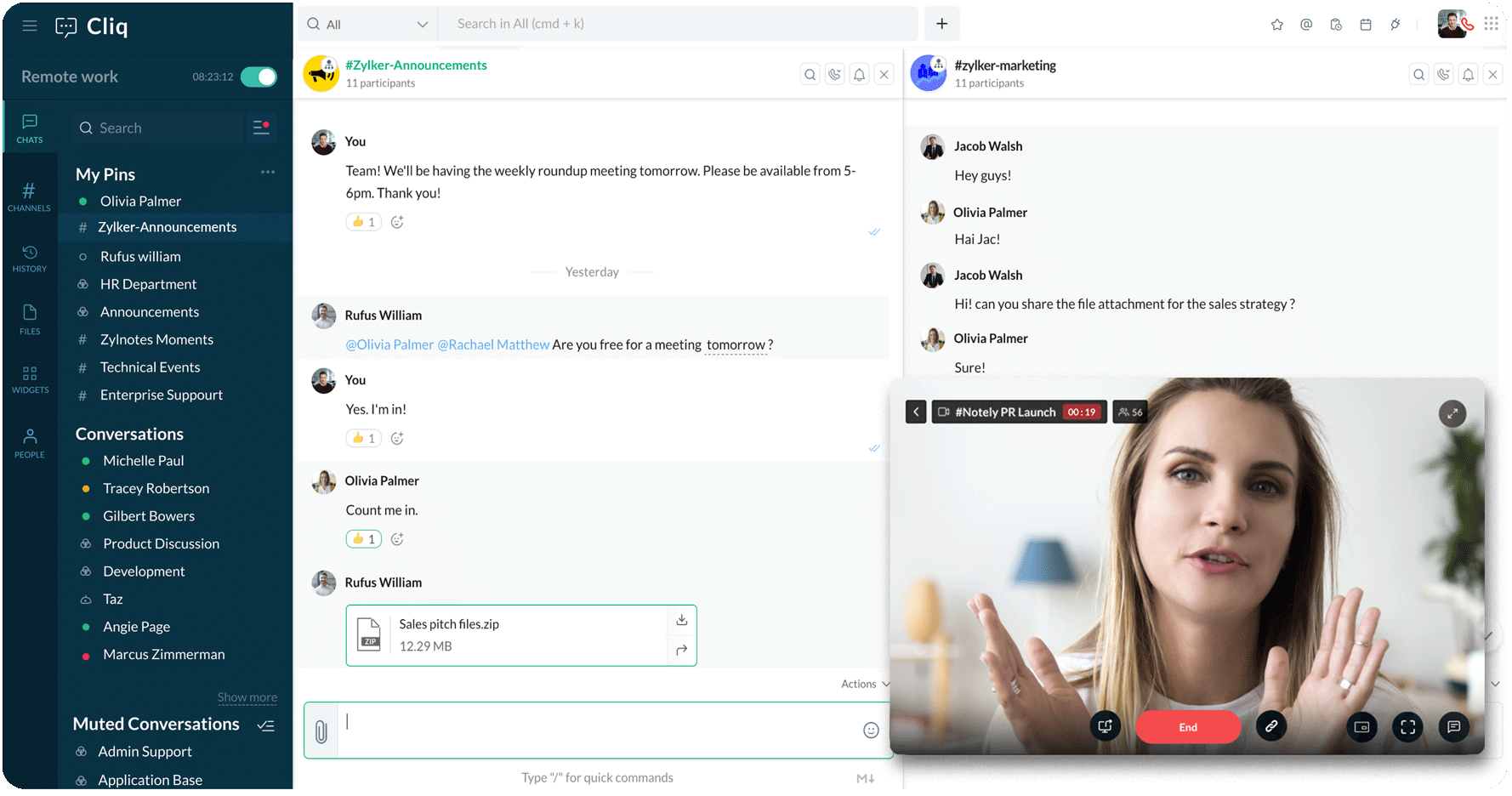 Zoho Cliq is a productivity management software that connects teams for group collaboration through text messaging, voice and video conferencing calls, to-do lists, and shared calendars. You can customize Zoho Cliq to meet your team's needs by creating command shortcuts and automating specific tasks.
Zoho CLiq is an ideal collaboration software for remote teams that need to stay productive throughout the pandemic and beyond. You can use a shared whiteboard to map out ideas and brainstorm, hop onto group conference calls, and share your screen to get your point across.
I Done This is another to-do list tracker that allows you to share your checklist with your coworkers. The productivity software lets your team members check for daily updates, look for which tasks are completed, and manage current projects. The PC app comes in a small package, but delivers excellent task management for any team or project.
Users can take one look at I Done This and know exactly where a project stands, who is meeting their goals, and what still needs to be done. The software is excellent for collaboration, project management, and task management.
Zoom is a well-known video conference software that makes it easy for teams to stay connected from anywhere. You can schedule online meetings, doctor's appointments, video webinars, marketing events, and nearly anything else you can think of through Zoom. The tool became highly sought after and popular when the global pandemic started, and it is still going strong, allowing remote workers to connect and work on projects from their couches.
Besides the video functions, you can use Zoom as a phone system for voice calls, and you can set up cross-platform messaging. There are also added features for easy file sharing from the cloud. Zoom is ideal for groups that need to keep track of tasks and goals and set up conference rooms for project management.
Flow-e is an email management software for a more productive inbox. The software is geared toward managers and small business owners. Flow-e is designed in a Kanban-like workflow with a productivity layer overlaid on your Outlook inbox. With Flow-e, you don't need an additional task manager or to-do list software — everything you need is built into the email software.
Flow-e combines email and task management with an elegant and streamlined interface that helps turn your inbox into the ultimate productivity center. You can customize Flow-e for your mailbox, making your Outlook inbox a visual workflow instead of a cluttered mess.